Rotovac Portable Carpet Extractor

MASSIVE VACUUM POWER! ™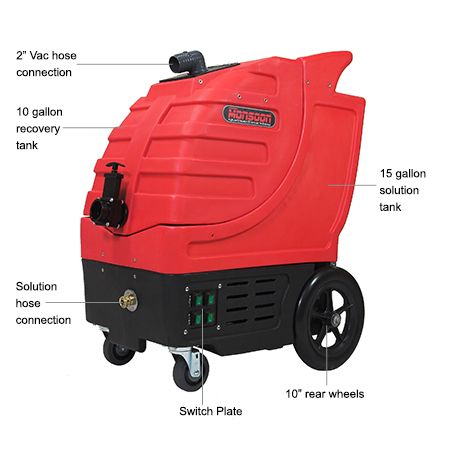 The Monsoon with new high performance ZX vacuum motors produces enough vacuum power to efficiently run up to 200 feet of vacuum hose and operates on two 15 amp circuits! With it's large 15 gallon clean water tank and automatic pump out of the dirty water, the Monsoon sets a new standard for portable carpet cleaning machines.
Proprietary ZX Vac Motors Produce Over 220" Of Lift!
225-250 CFM
Can Effiectively Run Up To 200 ft Vac Hose
220 PSI Solution Pump 1.5 gpm
Auto Waste Empty Pump Out 5 GPM
15 Gallon Fresh Water Holding Tank
10 Gallon Recovery Tank With Auto Empty
Runs On Two 15 Amp Circuits
Weighs Only 87 lbs
Dims : 21" W x 36" L x 39" H
Includes 25 foot dump hose and 2 power cords
*Does not include 25 foot hose set or wand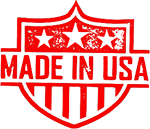 Call Rotovac for a shipping quote to your door!
| | Monsoon 150 | Monsoon 150H | Monsoon 250 | Monsoon 500 |
| --- | --- | --- | --- | --- |
| PSI | 220 | 220 | 220 | 0-500 |
| APO | No | No | Yes | Yes |
| Waterlift | 143 " | 143 " | 220 "+ | 220 "+ |
| Powercords | 1 x 15 amp | 2 x 15 amp | 2 x 15 amp | 2 x 15 amp |
| Weight | 68 | 80 | 87 | 103 |
Temporary Special Pricing
Part #
Description
Heater
Weight
Price

MONSOON-150

140" ZX vac motor, 220 PSI **IN STOCK**

68 lb

Rotovac Price: $1,995.00

MONSOON-150H

140" ZX vac motor, 220 PSI with Heat **CALL**

X

78 lb

Rotovac Price: $2,495.00

MONSOON-250

220" Dual ZX 220 PSI, APO **IN STOCK**

87 lb

Rotovac Price: $2,995.00

MONSOON-500

220" Dual ZX 500 PSI, APO **IN STOCK**

Rotovac Price: $3,995.00
Request More Information about
the Rotovac Monsoon 15-Gallon Portable Carpet Extractor
*Your email will not be sold or given to any third parties
* Indicates a Required Field.
For additional questions, please feel free to call us toll free at 1-888-768-6822.
International customers dial country code + 425-883-6746.
---
Reviews
I'm a proud owner of my Monsoon for about six months. I was skeptical at first. I went to the floor room and did a test to compare it with my old portable. I was blown away! This portable far out, exceeded my expectations for any portable. I was offered a very fair price and went home to sell my old portable. I haven't looked back since. It's great for any hard to reach jobs, knowing I'm not losing the quality because of poor vacuum and bad drying times. It's also a great back up to any truck mount that's in the shop getting repairs. I can't say enough good things about this machine.
All I can say is holy shit balls! You didn't exaggerate one little bit. Super glad I got this new rotovac monsoon from you. It's is an amazing upgrade from my old diamond back. 200 psi appears to be a true 200 psi output and the vacuum is incredible as promises. Thks again Mr. Tole Canada
I use the monsoon extractor and a 12" manual wand along with the proper pre-treatment to run my carpet cleaning business and make money in my local area. The monsoon is versatile running on 14.5 amps I am often in a home cleaning while the customer is cooking, watching t.v, and using their appliances the monsoon can operate with no issues. Even in 15 amp conditions like mobile homes so no problem there. Almost every customer asks about dry times with the monsoon you can be secure that you are up to the highest industry standard and you can inform your customers accordingly. Customers are impressed by the look of the machine and I personally think it's a great looking machine but the quality is visible in all areas of the monsoon. Simple to operate I go from the truck to cleaning very quickly set up is very fast. I like to pull the machine up to the door closest to the laundry room or kitchen and keep my hose runs under 100ft and even at 100ft the vacuum is not noticeably changed at all. It is very easy to maneuver and unload simple and easily accessible if maintenance is required. I am very pleased with the machine like I said I use the monsoon extractor and a manual wand to run my entire business. I go through all the pre-treatment steps use my monsoon and a 12" manual wand to extract and I am getting great results making money minutes from my home in most cases. This is a great tool built to last and designed to give you an edge. The monsoon allows anyone to become their own boss to create a secondary income to allow room for more positive moments of truth to occur in your life. I get great results with the monsoon it's not lacking in any area the rotomolded housing is super tough and the machine looks amazing very unique and simple design sturdy handle and easy filling feature. Most importantly the monsoon and a manual wand, a good vacuum, effective chemistry and a sturdy brush is what I use to operate my business. One months salary and I am in business for myself not just making money but working in my community offering a valued quality service to those in my area and helping people be happier in their homes. What motivates you may be different but with the monsoon you can achieve your goals. This machine is top of the line quality you can feel self priming pump is very strong. The monsoon is great for someone starting out very operator friendly and will give years of service. Rotovac gives you the confidence that you will be delivering top quality service because the monsoon delivers top quality performance and you have full support from rotovac that means for the lifetime of your business they are going to be there and they have all the tools for your success.
Wow!!!! We absolutely love the Monsoon!!!! We have been a client of Rotovac since 2009. They are always improving everything. Well, this Monsoon has double the suction of the old version CFX extractors we have, so that means much faster drying times but there are several other features that make this simply amazing!!! Let me list them here: 1) Suction is so strong it sounds like a monsoon or a tornado of wind. So, faster dry times than prior models. 2) Auto shut off. If you get a nasty job and filters get full of hair that can restrict the auto pump out, the Monsoon automatically shuts off if water level gets too high. This is also great if you forget to turn on the pump-out switch which we sometimes forget to do. 3)The wheels on this machine are so durable and spin so easy, you can cart this anywhere and we do! We even cart it to high rise condo top floors and put heavy stuff on top of the machine to make the trip to the top easier! 4)The noise level of the Monsoon is less than prior models that we have and we love that! 5) The exhaust water tank is so large, we have never had an issue with foam shooting out the extractor whereas that is a common issue with other extractors. 6) If we get to a job with no water, no problem! The Monsoon has a water tank reservoir with pump. What will they think of next?!!! So, we have been using the Monsoon over 6 months now and will be buying more in the coming months! We love it!!!! Bruce Fagan Steam Clean My Carpets, LLC Deltona, Fl
Very powerful. Good tires on the back. Holds a good amount of water. Nice for the money
I purchased the Monsoon after using one of my friends machines. It was on a slight back order and took about 2 weeks to actually receive my machine from the day it was purchased. But it was totally worth it. It sucks way harder then my old Ninja! I usually run about 100 ft of 2 inch hose and still get amazing dry times. The plastic body is pretty thick and seems like it will last a long time. Ide recommend the monsoon to anyone that uses a portable! Its really a great machine for the money!
Write a Review
Call us for more information about the Rotovac Monsoon 15-Gallon Portable Carpet Extractor. 888-768-6822