Financing Options
0% financing available. Call for details.
We Accept:


At ROTOVAC buying cleaning equipment just got easier. We are pleased to introduce to our customers our new financing plan brought to you by QuickSpark. Helping our customers work with the best equipment for the job is our main focus. By applying for financing, you will enjoy the benefits that financing equipment has to offer. (Note: You may only use the "lease to own" plan for orders $1500.00 and up.)

FINANCING!
Here are 9 good reasons why you should:
COVER ALL EQUIPMENT COST - No need to obtain financing elsewhere.
CONSERVE WORKING CAPITAL - Cash isn't tied-up in equipment. It's free for income-producing investments.
PRESERVE BANK LINES - Credit remains available for other needs.
SAVE ON TAXES - You save initially because financing costs come out of before-tax dollars, not after-tax profits.
SIMPLIFY ACCOUNTING AND DEPRECIATION RECORDS - Financing costs are tax deductible.
AVOID RAPID OBSOLESCENCE - The most modern equipment is always available and up-dating is easy. So you can always be at your competitive best.
FIGHT INFLATION - Financing costs remain the same, no matter how much prices rise. You pay for today's needs with tomorrow's dollars.
KEEP EQUITY INTACT - There is no need to issue stock or sell part of the company to raise capital.
EXPAND, REPLACE EQUIPMENT - Since no capital investment is involved, expansion and replacement of equipment may happen more quickly.
How do you benefit from financing?
You get new labor-saving equipment right away. You pay for the equipment as you use it, and your monthly labor savings can exceed your finance payments.
Preserve your cash for other needs. Financing helps you manage your cash flow and keep cash ready for unforeseen expenses.
Stay within your budget. Financing spreads the payments out over several budget periods.
Public Schools and Hospitals
Staying within budget can prevent you from getting the equipment you need to do your job.

ROTOVAC can provide you with financing that will keep you within your budget by spreading the cost of new equipment over several budget periods.

Commercial/Retail businesses
Budget and bottom-line are the watch words here. New equipment can save labor and time. Finance payments can be deductible. Many times the labor savings outweigh the monthly finance payment. You write off 100% of your savings.

To Apply: Simply call us toll free at 1-888-768-6822 with any questions or to request an application.
Apply online now with Taycor Financial
Apply online now with Aztec Financial
Apply online now with ClickLease
Apply online now with AmeriCapital
Apply online now with QuickSpark
ROTOVAC is pleased to announce our new Home Source 180 days same as cash (with minimum payment) program that you may use to pay for your equipment order.

Need your equipment right away? We can have a credit decision within 24 hours (upon receipt of application).

To Apply: Call Rotovac at 425-883-8953. If approved, additional forms and information will be required. You may also call us toll free at 1-888-768-6822 to request an application or for the terms and conditions of this contract.

Note: you must have Adobe Acrobat Reader to download this application. Please visit the Adobe website to download a FREE copy.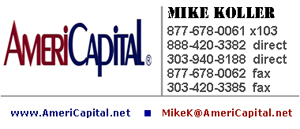 Financing Options
*Your email will not be sold or given to any third parties
* Indicates a Required Field.
For additional questions, please feel free to call us toll free at 1-888-768-6822.
International customers dial country code + 425-883-6746.