Water Claw - Sub-Surface Flood Extractors
Whether you pull pad or you don't, the first step to making any flood extraction job easier, faster, and more profitable is to start with sub-surface extraction using the Water Claw. Proven on thousands of flood restorations world wide. Water Claw flood extractors are a "must have" tool for the full-service professional.
Added Features
Vacuum Release. Spring loaded handle automatically breaks vacuum between the carpet and tool for easier and faster flood extraction.
Telescoping handle easily adjusts for different operators.
Newly designed bottom plate for improved sub-surface extraction.
Angled metal hose flange for greater durability accepts 1.5" or 2" hose cuffs.
$35 Optional Heavy duty carrying pouch can be mounted on the wall of your van or shop.
A. Deluxe Medium Unit (AC016)


10" x 17"

Extracts about 800 sq. ft. per hour

B. Deluxe Large Unit (AC018)
12" x 21"

Extracts about 1200 sq. ft. per hour


C. Spot Lifter (AC012)
If the problem is in the carpet backing or the pad, then the solution is the Water Claw Sub-Surface Spot Lifter. Flush out urine contamination, soda pop, oils, soap residues, food spills, etc. at their source. Use with a truckmount, portable, or mini-extractor. Accepts 1.5" or 2" hose cuffs.
Water Claw Bag
Medium - (AC016A)
Large - (AC018A)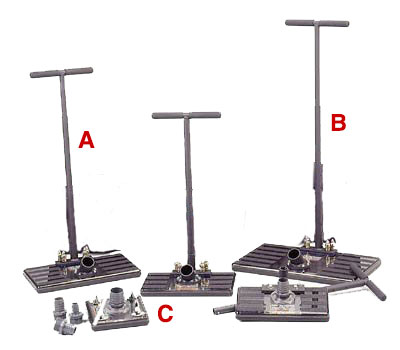 | Part # | Description | Price |
| --- | --- | --- |
| AC016 | Deluxe Medium Unit | Rotovac Price: $494.00 |
| AC018 | Deluxe Large Unit | Rotovac Price: $510.00 |
| AC012 | Spot Lifter | Rotovac Price: $178.00 |
| AC016A | Medium Water Claw bag | Rotovac Price: $29.00 |
| AC018A | Large Water Claw bag | Rotovac Price: $33.00 |
---
Reviews
Call us for more information about the Water Claw - Sub-Surface Flood Extractors. 888-768-6822