Rotovac CFX Parts
The CFX is smaller than a standard 12 gallon portable extractor. This is made possible due to the super compact design of the motor housing and small recovery tank with an automatic empty pump out system.
The original cfx can not be upgraded to use CFX ZX vacuum motors. Please call us to ask about our trade in program.
Standard Features

Non-Stop High Flow Cleaning
Auto pump out at 2.6 GPM
Patent pending air/water separation system, no defoamer needed
Dual 2 or 3 stage high velocity vac motors 200 CFM
Saves Time & Labor
Only 39 lbs, fits in any car!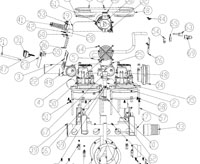 Two and Three Stage Part List
*only for 3 stage
**only for 15 gallon
| | | | | |
| --- | --- | --- | --- | --- |
| | 94-238-03 | Diaphram Kit | $35.00 | |
| | ADAPTKIT | Faucet Adaptor Kit | $69.00 | |
| | RA-160 | 25' Clear Discharge Hose | $67.50 | |
| | RA-161 | 10' Clear Discharge Hose Whip | $15.00 | |
| | RP-273 | Deck Plate Seal Assembly for CFX | $82.50 | |
| | RP-273-A | Deck Plate Seal Assembly for CFX ZX | $82.50 | |
| | RP-274 | CFX Recovery Tank (Tank Only) | $300.00 | Call 888-768-6822 to purchase. |
| | RP-276 | CFX Upper Housing with Handle | $150.00 | |
| | RP-277 | Deck Plate Suction Screen | $22.50 | |
| | RP-281 | Sight Window | $18.00 | |
| | RP-284 | Fluid Suction Strainer | $19.00 | |
| | RP-287 | Motor Vent Cover Plate | $25.50 | |
| | RP-288 | Window Bezel | $11.25 | |
| | RP-290 | Inlet Diffuser Tube | $45.00 | |
| | RP-292* | Pigtail powercord | $6.00 | |
| | RP-294 | Pump Outlet Gasket | $5.25 | |
| | RP-296 | Motor Wire Bundle | $37.50 | |
| | RP-297 | Control Wire Bundle | $27.00 | |
| | RP-305 | Main Decal | $11.25 | |
| | RP-305-ZX | Main Decal for CFX ZX | $11.25 | |
| | RP-309 | Cover Level Switch | $7.50 | |
| | RP-352 | Control Plate | $30.00 | |
| | RP-354 | Control Plate Decal | $7.50 | |
| | RP-354-ZX | Control Plate Decal for CFX ZX | $7.50 | |
| | RP-395 | CFX Priming Plate | $7.00 | |
| | RP-452** | CFX Bottom Tank 15 Gallon (Tank Only) Fits any CFX | $395.00 | |
| | RV-1012 | 2" Silicone Hose Section | $7.00 | |
| | RV-422 | CFX Window Screw | $0.15 | |
| | RV-456 | Yellow Female Crimp | $0.50 | |
| | RV-495 | Picker Relay | $15.00 | |
| | RV-499 | Draw Latch | $15.00 | |
| | RV-500 | Float Switch | $20.00 | |
| | RV-501 | Green Rocker Switch | $19.00 | |
| | RV-502 | Female Crimp Connect | $0.50 | |
| | RV-506 | Ball Caster Wheel | $9.00 | |
| | RV-507 | Barbed Pipe Hose Adapter | $7.50 | |
| | RV-508 | Bulkhead Fitting | $15.00 | |
| | RV-509 | 2 Stage Vac. Motor 6600-33MP | $110.00 | |
| | RV-521 | 2" Male PVC Pipe Adapter | $4.50 | |
| | RV-523 | Strain Relief | $3.75 | |
| | RV-524 | Control Mounting Screw | $0.37 | |
| | RV-527 | Ring Terminal | $0.37 | |
| | RV-529 | Female Plastic Garden Hose Fitting | $5.00 | |
| | RV-530 | Vent Plate Screw | $0.37 | |
| | RV-531 | Access Cover Screw | $0.37 | |
| | RV-532 | Caster Wheel Screw | $0.37 | |
| | RV-533 | Male Plastic Garden Hose Fitting | $5.00 | |
| | RV-546 | Filter Bag for CFX (8x17") (price is for a pack of 3) | $27.00 | |
| | RV-551 | White Crimp Cap | $0.37 | |
| | RV-554 | Small Female Crimp Connect | $0.37 | |
| | RV-560 | Exahaust Manifold Screw | $0.37 | |
| | RV-565 | Zinc Nylock Nut | $0.37 | |
| | RV-578 | Relay Screw | $0.25 | |
| | RV-584 | Small Hose Clamp | $1.50 | |
| | RV-585 | Black Plugs for Draw Latch Keeper Holes | $0.15 | |
| | RV-613* | 3 stage vac motor | $169.00 | |
| | RV-615 | Hole Plug for Control Plate | $1.00 | |
| | RV-617 | Draw Latch Keeper | $1.00 | |
| | RV-629 | Zinc Nut | $0.25 | |
| | RV-630** | Crossbar Screw | $0.25 | |
| | RV-643 | Hose Clamp | $1.50 | |
| | RV-645 | Manual Empty Button | $10.00 | |
| | RV-658 | 40 PSI Shurflo Diaphragm Pump | $245.00 | |
| | RV-660 | Grommet for Vac Cover Plate | $1.20 | |
| | RV-665 | Blue Female Crimp Connector | $0.37 | |
| | RV-667 | Brass Barbed Fitting | $1.00 | |
| | RV-668 | Brass Garden Hose Fitting for Pump | $15.00 | |
| | RV-670 | Vent Guard | $1.50 | |
| | RV-671 | Thin Nut | $1.00 | |
| | RV-683 | Nylon Reducing Tee | $2.00 | |
| | RV-735 | Dump Valve | $49.00 | |
| | RV-919 | SS Latch Screw | $0.25 | |
| | RV-978 | Rotovac ZX Vacuum Motor | $235.00 | |
| | S-061 | Vac Motor Mounting Nut | $0.45 | |
| | V-055 | Male Quick Connect | $8.00 | |
| | W-013 | Small Lock Washer | $0.15 | |