Rotovac Marketing Assistance Program

The Marketing Assistance Program has been discontinued.
If you are taking your carpet cleaning business seriously, chances are you are too busy out on jobs to devote too much of your time to marketing. This is where Rotovac comes in. You already have the equipment, you have lined up a few jobs but need a "plan of attack" to go after new business.
How can M.A.P help you?
The Rotovac Marketing Assistance Program has many different ways to generate you business and is constantly coming up with new ways to offer value to our customers.
Rotovac Resources Center
As a M.A.P member you will have access to our "Resources Center" where we have many articles on different strategies to capture new business. This center is for Rotovac M.A.P customers only and will be constantly updated with new ideas and marketing fliers and other free tools.
Marketing Fliers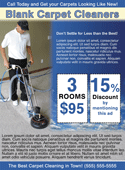 Rotovac has many pre-made fliers to choose from, custom made by us to capture people's attention and display the value of your services. Just choose one of our attractive fliers and have a local print shop tailor it to your business with your own written content, logo in the corner, website address and phone number.
If you have just done a job in the neighborhood why not leave a few fliers in people's mail boxes or knock on a few doors and let them know the great job you just did for their neighbors?
Basic Custom Marketing Website
Along with a cell phone and business cards, a website is just one of those basic things all carpet cleaners need these days to operate a business. Before the internet people would usually just use whatever service they were recommended by somebody, but these days even if a person is hearing from you via somebody else they are likely to research you online before calling to make sure they are hiring the best possible company.
Our websites are done for you completely, no need to come up with any material for us. We have a lot of excellent pre-written carpet cleaning text, and will add great pages to your site like spot removal guides, "common misconceptions" and a frequently asked questions page that will have your customers coming back for more.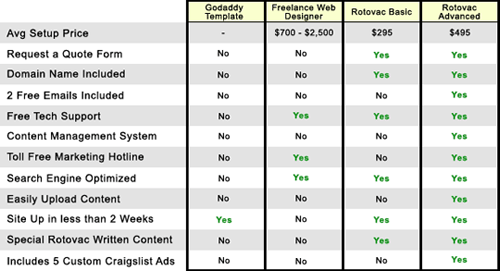 Access to Free Technical Support
Unlike Godaddy, Hostgator and most hosting companies we have a free tech support line that can help you resolve any issues you may have. Although we charge for larger jobs, quick changes are usually done free of cost – quite a savings when you consider that most designers charge upwards of $60 an hour and insist upon an hour minimum.
Rotovac marketing Consultation
When you sign up you will receive a free phone marketing consultation with our resident marketing expert. Learn more about what it will take to make your business successful and capture new business.

Rotovac marketing guide
Our marketing guide will talk you through step by step how to build a successful carpet cleaning company. Learn tricks on how to build relationships with apartment complexes, discover how to get your old clients to refer you to new clients. It's all right here in one easy to digest marketing guide.
For More Info on the Rotovac Marketing Assistance Program please call 888-768-6822 EXT 100