EDIC Dynamo 12W/20W
These wet/dry vacuums have the power and capacity to tackle the really big jobs, yet are so quiet you can use them anywhere without interrupting the work environment. The 12-gallon model is the best of both worlds with its large tank yet ease of transportation and storage. The 20-gallon Dynamo is a powerhouse featuring dual motors and the popular Tip 'N' Pour design for maximum performance. Both models come complete with a deluxe 8-piece tool kit and are available with an optional front mount squeegee attachment for removing large amounts of liquid fast. Optional HEPA filter is available on 12-gallon model. Choice of Polyethylene or stainless steel tank.
Tip 'N' Pour on
20-gallon model for
easy water disposal.

Features


63dB for whisper quiet operation.
Equipped with a dolly cart with large rear wheels for easy transport and greater stability.
Includes high quality "drop-in" style cloth filter bag for maximum airflow.
Paper filter bags available on both models plus optional HEPA filters on 12W.
Powerful 1600-watt dual vac motors on 20W for ultimate suction.
Two-piece metal wand along with full 1 1/2" accessory kit included.
Full 1.5" swivel hose connection system for easy handling and operation.
Easy water disposal with "Tip 'N' Pour" system on 20-gallon and hose drain system on 12-gallon.

Front-mount squeegee
for removing large
volumes of water fast!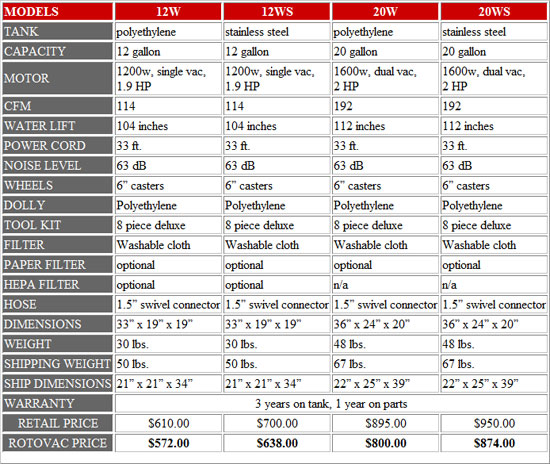 Part #
Description
Price

12W

Polyethylene Tank

Retail Price: $610.00
Rotovac Price: $572.00

12WS

Stainless steel tank

Retail Price: $700.00
Rotovac Price: $638.00

20W

Polyethylene Tank

Retail Price: $895.00
Rotovac Price: $800.00

20WS

Stainless Steel Tank

Retail Price: $950.00
Rotovac Price: $874.00
---
Reviews
Call us for more information about the EDIC Dynamo 12W/20W. 888-768-6822
Request More Information about
the EDIC Dynamo 12W/20W
*Your email will not be sold or given to any third parties
* Indicates a Required Field.
For additional questions, please feel free to call us toll free at 1-888-768-6822.
International customers dial country code + 425-883-6746.