The Rotovac 30-Day Money Back Guarantee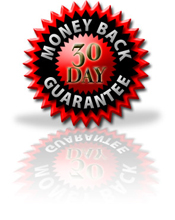 The Rotovac 30-Day Money Back Guarantee
At Rotovac, we understand it is important to make the right decision when purchasing equipment to start your business. That is why every Rotovac equipment package comes with a 30-day money back trial period which allows you to put the Rotovac to your own test (that's the only test that really matters). We deliver our equipment package to your door so you can take it out and clean with it for a full 30 days. This gives you time to test the equipment and test the carpet cleaning business to make sure that it's a good fit for you.
From the day you receive the Rotovac, go out and start earning some extra money. Do as many jobs as you like for a full month. We guarantee that you will find that the Rotovac cleans better than any other system on the market. See for yourself how your customers are truly amazed by how much cleaner you get their carpet than their last cleaning. Many of our clients have earned back the cost of their equipment package in the very first month.
If, for any reason, you decide not to keep the Rotovac, simply give us a call and we will have the same shipper that delivered your equipment return to your door to pick it up for a full purchase price refund.
There are several reasons why starting your new carpet cleaning business with the Rotovac Powerwand makes sense:
The patented vacuum heads use Rotary Jet Extraction which thoroughly cleans the carpet fibers from all directions to produce superior cleaning results that will amaze your customers ... everytime.
The Rotovac Powerwand cleaning results are much more impressive than the basic cleaning wand and will allow you to have a major edge on the competition.
With superior cleaning results, you will be able to build a strong referral and customer base. No more searching for jobs.
Free training and marketing assistance.