"Eliminate The Bucket Brigade"
Traditional extractors are heavy and bulky, weighing close to 100lbs and requiring a large vehicle for transportation. In addition, they must be filled and emptied continuously throughout the entire job; a process known as the "Bucket Brigade".
The CFX is compact, weighing only 40lbs. It can be carried in one hand and transported in any size vehicle. In addition, dual high velocity vacuum motors combined with an automatic empty pump-out system add up to making the CFX the world's easiest extractor to operate. No more stopping to carry buckets of water back and forth or busting your back to lift heavy extractors.
Features:
Dual High Velocity Vacuum Motors
Float Controled Auto Pump Out System
Saves Time & Labor
Super compact 40 lbs, fits in any car!
Money Back Trial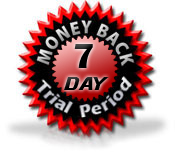 Click here to learn about our latest CFX with a 15 gallon tank
| | | | |
| --- | --- | --- | --- |
| Accessories | Part # | Discount Price | Retail Price: |
| 50' Solution hose w/QCs | 50FTSOL | $95.00 | $100.00 |
| Faucett adapter set | ADAPTKIT | $69.00 | $73.00 |
| 25' Vacuum hose | 25FTSOL | $55.00 | $58.00 |
| 25' Solution hose | 25FVH | $49.95 | $53.00 |
| Stainless Steel Wand | SW-2-02A | $195.00 | $205.00 |
| 50' 14 guage power cord | RV-553 | $43.75 | $46.00 |
| Filter Bag | RV-546 | $9.00 | $10.00 |
Click to see video on how it works
Click Here for CFX Parts
Call Us Today For More Information.
Toll Free 888-768-6822



---