Rotovac Stairpro

The StairPro Cleans Stairs
Better, Faster and Easier


Why the Rotovac StairPro?
Due to the condensed traffic pattern, stair steps can be the most challenging part of a carpet to clean. Cleaning stairs with a hand tool is both strenuous and time consuming, often producing less than desirable results. The new Rotovac StairPro offers a great solution to this age old problem.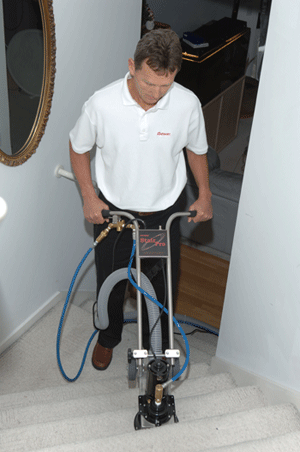 The Rotovac StairPro allows the operator to stand in a comfortable upright position while cleaning stairs. The StairPro's patented Rotary Extraction Head is guaranteed to clean better, faster and easier than any manual stair tool. The StairPro is also great for cleaning other tough spots such as wax, gum, paint, traffic lanes or any other area which requires magnified cleaning power.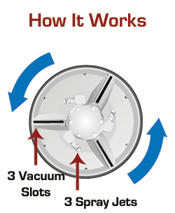 The StairPro's seven inch diameter stainless steel rotary cleaning head has three vacuum extraction slots and three spray jets. The cleaning head rotates at 250 R.P.M to produce 750 multi-directional cleaning passes per minute. This aggressive cleaning action restores heavily soiled matted stair steps with ease.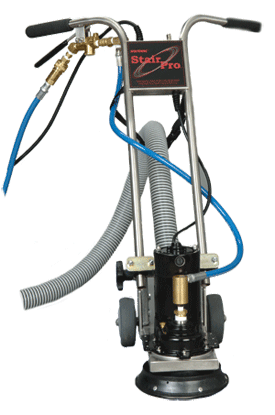 Features:
Weighs Only 24lbs
Works With Any Portable Extractor Or Truck Mount Extractor
Adjustable Handle Angle
High Torque 7" Cleaning Head
Ideal For Stair & Spot Cleaning
Cleans Better And Leaves The Carpet Much Drier

Restores Heavily Soiled Carpet With Ease
Great For Gum, Wax, or any other Tough Stain Removal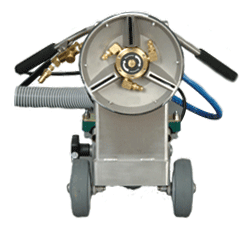 | Part # | Description | Price |
| --- | --- | --- |
| R-VAC-STAIR | | Rotovac Price: $1,295.00 |
Call us for more information about the Rotovac Stairpro. 888-768-6822
Request More Information about
the Rotovac Stairpro
*Your email will not be sold or given to any third parties
* Indicates a Required Field.
For additional questions, please feel free to call us toll free at 1-888-768-6822.
International customers dial country code + 425-883-6746.